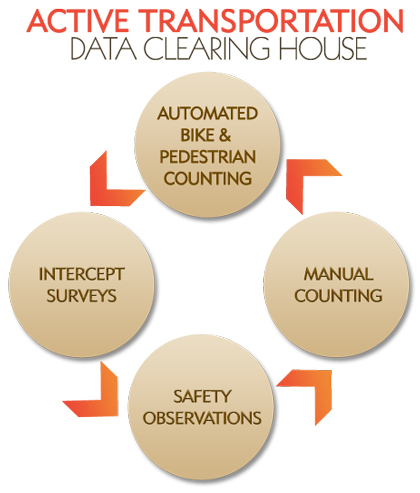 Welcome
Active Transportation Research (ATR) provides community-based research and planning services to agencies and organizations in the San Diego region to understand…
Bicycle and pedestrian activity in your community through continuous automated data collection
Full cycling demands along corridors by conducting parallel simultaneous counts
Cyclist-pedestrian-vehicle interactions along corridors and at intersections
Cyclist and pedestrian travel patterns
Let us assist you with your active transportation data collection and analysis needs!
Contact Bruce Appleyard at 503-810-7249
or by email at bappleyard@sdsu.edu
In The News
About ATR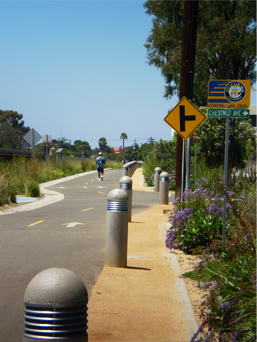 Active Transportation Research (ATR) focuses on providing research and planning services in the area of bicycle and pedestrian travel and facilities.
---
The goal of ATR is to build support at the local, regional, and state levels for adopting sustainable travel policies and plans.
---
Housed at SDSU, ATR supports discussions on environmental and social sustainability through rigorous evaluations of non-motorized travel and community environments. Partnering with local, regional, and state agencies, faculty affiliated with ATR work to build evidence-based research that supports policy actions to further sustainability and health in the realm of travel and urban form.
Recent California state mandates require local and regional governments to plan for all users of the transportation system, including elderly, children, cyclists, transit riders, and disabled. However, there is a dearth of systematically collected data on these travelers, as well as a lack of transportation planning methodologies to analyze and understand these travelers. SDSU is uniquely situated to gather and analyze rich data collected by our automated bicycle and pedestrian counting equipment. ATR is committed to exploring the development of active transportation metrics and analysis methodologies that will contribute to expand our understanding and ability to integrate active transportation into mainstream planning.
---
San Diego State University is home to 58 automated bicycle and pedestrian counting units, the largest number in any region in the nation.
---
Research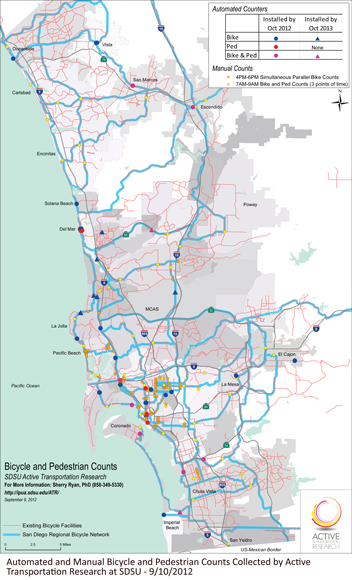 Active Transportation Research (ATR) is currently supporting the collection of continuous daily bicycle and pedestrian counting in 35 locations across the San Diego region. This data will support innovative research in active transportation, as well as improved understanding of active travel behavior and planning for these modes.
Automated Counting
Automated Counter Siting Process
Manual Counting
We are collecting on-going manual counts, including simultaneous parallel counting, focused on the San Diego regional bicycle network



We are supported by a web-based server at Eco-Visio.
Other Research
We are actively working on independent research related to a variety of other topics:
Safe Route to School
Social Equity and Active Transportation
San Diego Regional Bicycle Demand Analysis
Services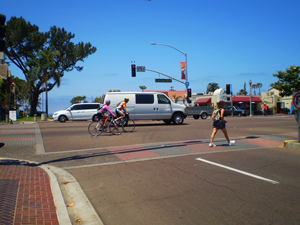 ATR faculty are engaged in active transportation research to explore standardization of data collection and analysis techniques, and offer these data and planning services to local and regional agencies to fortify their ability to meet and exceed California state mandates to plan for travel by the elderly, children, cyclists, transit riders and the disabled.
Data gathered via automated bicycle and pedestrian counting equipment is available to augment planning at the local and regional levels. Additionally, faculty at SDSU can provide: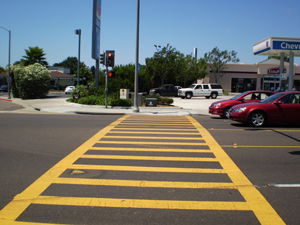 Enhanced Data Collection Services

Cycling Census
Walking Census
Bicycle and Pedestrian Manual Counts,
Intercept Surveying of Cyclists and Pedestrian,
and
Bicyclist and Pedestrian Safety Studies

Community Presentations
Performance Monitoring/Reporting
Project/Program Evaluation
GIS Mapping
For more information about data or services, contact Sherry Ryan at sryan@mail.sdsu.edu or 858-349-5330.
People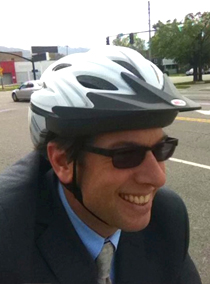 Dr. Bruce Appleyard
Dr. Bruce Appleyard is passionate about helping people create joyful and enriching communities that reflect their spirit and identity, are economically vibrant, and yield environmental and health benefits for all. Bruce specializes in pedestrian and bicycle planning and design, as well as applied GIS research on human settlement and behavior patterns at the intersection of urban design, transportation, and land use and environmental policy. His research and applied work has focused on identifying how these policies and practices can be used in concert with one another to improve a range of sustainability, livability, social equity, and public health outcomes (air & water quality, climate change, physical activity).
For his work with communities to improve their livability, safety and health, he was recognized by the Robert Wood Johnson Foundation as one of their "Top-Ten Active Living Heroes", alongside Dan Burden and President Barack Obama.
http://www.activeliving.org/profiles/toptenprofiles
Bruce is also working on Livable Streets 2.0. Here is a link to video about this work:
http://www.streetfilms.org/revisiting-donald-appleyards-livable-streets/